Just 90 seconds from the Beach
A Traditional Seaside Town
Judith and Scott would like to offer you the warmest of welcomes to the newly refurbished Highlea House.
Our 10 en suite rooms come with home comforts that include coffee machines and memory foam beds.
The Guest House is just a 90 second walk to the beach with a variety of bars and restaurants within a few minutes walk.
We look forward to seeing you…
Our Rooms
Double Room with Private en suite bathrooms, Freeview TV, Tea coffee facilities, Complimentary water, Free WiFi, Memory foam mattresses, Full English Breakfast
Superior King Size room with a Sea View, Private en suite bathrooms, Freeview TV, Tea coffee facilities, Complimentary water, Free WiFi, Memory foam mattresses and Full English Breakfast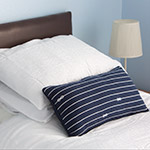 Triple Room with Private en suite bathrooms, Freeview TV, Tea coffee facilities, Complimentary water, Free WiFi, Memory foam mattresses, Full English Breakfast
Small Double Room with Private en suite bathrooms, Freeview TV, Tea coffee facilities, Complimentary water, Free WiFi, Memory foam mattresses, Full English Breakfast
Twin Room with Private en suite bathrooms, Freeview TV, Tea coffee facilities, Complimentary water, Free WiFi, Memory foam mattresses, Full English Breakfast
Economy Double with Private en suite bathrooms, Freeview TV, Tea coffee facilities, Complimentary water, Free WiFi, Memory foam mattresses, Full English Breakfast